At the moment it seems as though every instagram account and blog that I follow has either just returned from, about to go to, or is currently in Bali! Which is actually quite perfect as I've conned invited my family and besties on a trip to the indonesian island for my birthday this year! It's time for a holiday bitchez!!
So, if you are also planning a trip to Bali (obviously to celebrate my birthday in August too) I thought you should be treated to some quick links to the gorgeous images I've been seeing on my feeds by these lovely, inspiring and stylish women who are getting me all excited for this well deserved break that's coming up!
FRIEND IN FASHION
JASMIN HOWELL. MELBOURNE.
"T
he fashion diary of a wanderlust. Chanel in one hand, passport in the other...
"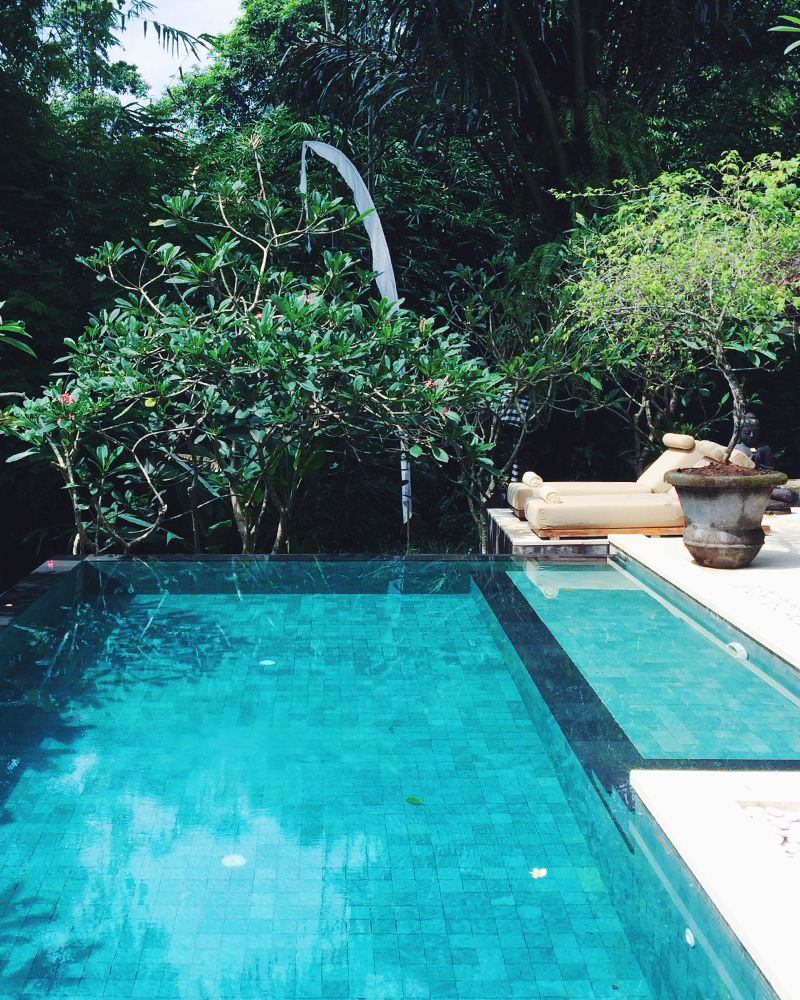 IMAGES TAKEN FROM FRIEND IN FASHION BLOG
Jasmin is always travelling the globe in style, keeping her blog and instagram up-to-date with stunning pictures you literally want to step into. Recently she posted her Bali Travel Guide with all the places you should stay, eat, visit, play and shop - and made us all jealous with the post A Luxe Nomad in Bali.
*TIP: Make sure you check out her wanderlust jewellery collaboration By Jasmin with Bahagia Store.
◆◆◆▲▲▲◆◆◆
A PAIR & A SPARE
GENEVA VANDERZEIL. MELBOURNE.
"A
how-to website for the modern woman who loves to make beautiful things,
go to amazing places, and look great whilst doing it..."
IMAGES TAKEN FROM A PAIR AND A SPARE BLOG
I love how Geneva, in all her 1950's classic glamour with an on-trend twist, makes every image on her blog look like something out of a classic beauty magazine - just by being in it herself! The talented author and Australian DIY Queen puts a fresh spin on all things Bali, especially off the main strip of Kuta (yuck!) in her recent Quick Trip to Bali post (which she actually joined Friend in Fashion on.)
◆◆◆▲▲▲◆◆◆
LION IN THE WILD
KIARA KING. PERTH.
"the personal style diary of
a design graduate pursuing her love of all things fashion…"
IMAGES TAKEN FROM LION IN THE WILD BLOG
Now, if you're more into the luxe resort -pack your travel diary out with beautiful scenery and cocktails - kind of holiday, then
Lion in The Wild
is where you want to head for an
incredible
guide to Bali. Under the travel category you'll find a number of gorgeous posts about resorts in Bali, including
The Bale Experience
and
El Kabron Cliff Club
.
◆◆◆▲▲▲◆◆◆
HEALING BELLE
BELLE GIBSON. MELBOURNE
"Game changer and director at The Whole Pantry App (winner of best app 2013!)
…"
I've had the pleasure to listen to
Belle Gibson
, creator and director of The
Whole Pantry App
speak, and let me tell you, just following her instagram account will keep you inspired day-to-day. The 20 something mother of one is living with brain cancer and running the world's best app - no really, it was the number 1 app downloaded last year. If you are part of the shift that's happening globally, searching for the way to live a clean and healthy, full of life life,
The Whole Pantry App
+
Instagram
are the places to start.
ENOY THE VIEW! xx